Dānít'ádā ~ - 'How are you?'
A warm welcome from Tsuut'ina Nation
New Relationship Agreement strengthens the long-standing relationship between Tsuut'ina Nation and TC Energy.

Editor's note: This article was written in collaboration with Elder Bruce Starlight, Jordan Big Plume and Janine Trotta from Tsuut'ina Nation.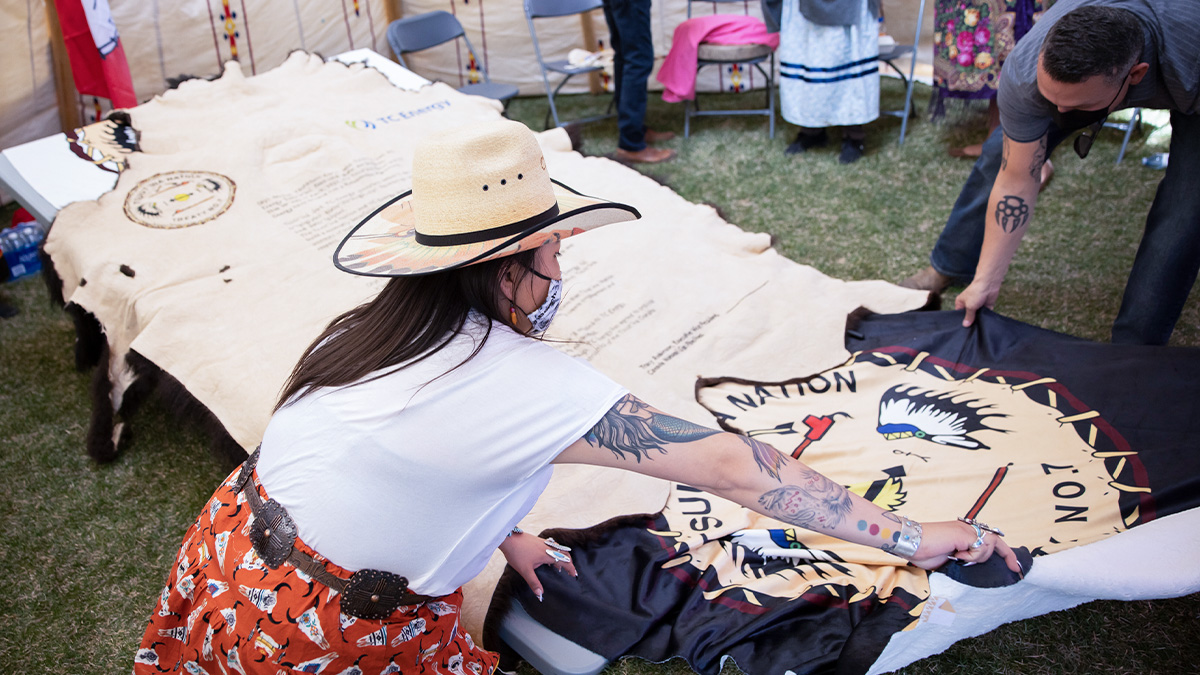 More than 100 years ago, it is said that Tsuut'ina Nation's forefather and founder, Chief Bull Head, hung up a rug telling the story of the Chief, his warriors and his people – a rug which can now be viewed at the Tsuut'ina Cultural Museum. The Tsuut'ina Nation's practice of recording important events on rugs and buffalo hides has continued through the years. So, it comes with great honour that the Relationship Agreement we recently entered into with the Tsuut'ina Nation, was engraved onto a buffalo hide, in both the Tsuut'ina language and English, and gifted to TC Energy.
Our relationship with Tsuut'ina Nation dates to the 1960s, when TC Energy began building the Western Alberta System throughout southern Alberta and crossed Tsuut'ina land. Truly an enduring relationship based on understanding, trust and respect, the Relationship Agreement will build a mutually beneficial relationship that recognizes the interests of both parties.
Making relatives
To acknowledge the special partnership, Tsuut'ina Nation hosted a signing ceremony at their new Manyhorses High School at the end of April 2021. They extended many honours in welcoming TC Energy into their family and community, including a Feather Hat, given to Tracy Robinson, Executive Vice-President, President Canadian Natural Gas Pipelines and President Coastal GasLink, who participated in the signing ceremony on behalf of TC Energy.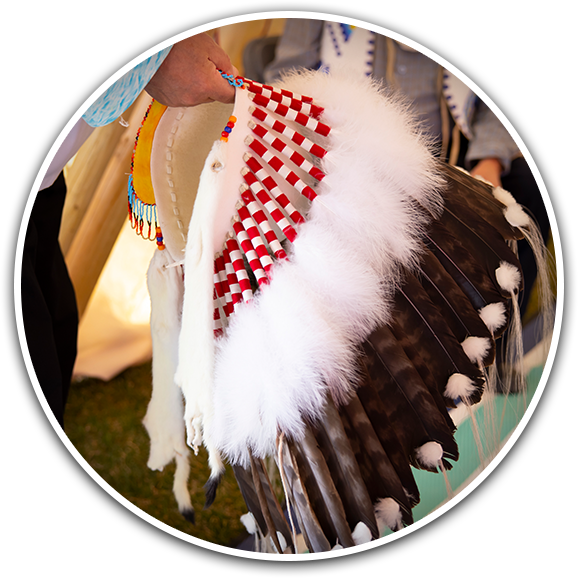 Elder Bruce Starlight
Tsuut'ina Nation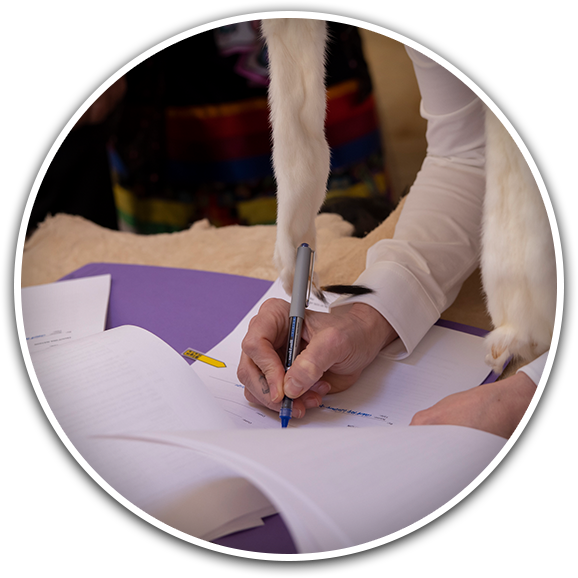 Preservation of a language: 'Sitting Buffalo Woman'
As part of the Relationship Agreement, support for the Tsúūt'ínà Gūnáhà Nest is also included, which will help preserve the Tsuut'ina language through the development of the new Gūnáhà (language) building. Of this, an Elder shared a story – a little boy was visited by the buffalo and taught how to build a tipi for shelter. The boy then went on to show his father and their tribe how to build a tipi for shelter and the other many uses of a buffalo. During the signing ceremony, an Elder shared that a name honour was to be given to Tracy – 'Sitting Buffalo Woman' – chosen to represent TC Energy's support to the Tsúūt'ínà Gūnáhà Nest and the many purposes it will serve.
Tracy Robinson
Executive Vice-President, President Canadian Natural Gas Pipelines and President Coastal GasLink
The Dene language family
Jordan Big Plume, Executive Director, Governance and Administration, Tsuut'ina Nation explains some of the history.
"The Tsuut'ina are Dene language speakers and the Dene language family is the largest Indigenous language family in North America and even reaches around the world. Stretching from the northern tip of Siberia all the way down to South America, relatives include the Navajo, Aztecs, Apache, Tłincho, Tłingit, Denesułine, Hupa, Chilcotin, Beaver, Gwich'in, and the Ket people.
While Tsúùt'ínà gūnáhà has been declared extinct, many efforts remain to revive it by the few fluent speakers still alive. Thanks to the tireless dedication and time spent recording the language into a dictionary, written in the Tsuut'ina orthography, the language can now live on."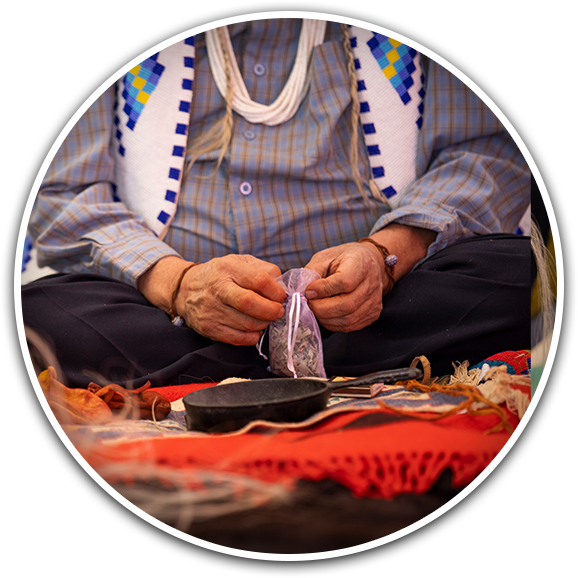 More information
'Tsúùt'ínà means "many people" or "beaver people," while gūnáhà means "language." Tsuut'ina nīnnīshá, or "culture," derives from the relationship the Tsuut'ina people have with the nìsk'ā, or "land." Nìsk'ā has always offered life and knowledge to its inhabitants. Tsúùt'ínà gūnáhà, stories, history, traditions and ceremonies are all derived from nìsk'ā.