A life of service – Meet one of our employees in uniform
On Nov. 11, we will pause to recognize Veterans Day in the U.S. and Remembrance Day in Canada in honour and memory of those who've served and sacrificed for our freedom.

We're fortunate to work alongside more than 200 veterans and soldiers – and proud to be part of a team that values the diverse skills, experience and perspective that veterans and military personnel bring to our workplace, and that supports their continued service in the military.
He's a Master Sergeant, a father of six and a valued member of the TC Energy team.
One of our employees in uniform, and a decorated soldier, Master Sergeant Franklin E. Peterson has served in the United States armed forces for over 20 years.
Franklin's military career started in his senior year in high school when he enlisted in the National Guard, and soon after became a certified Mechanic.
In the years following, he was mobilized to support air force bases after the 9-11 attack, deployed to Baghdad, Iraq to repair and restore critical military vehicles and has supported countless missions at home in the U.S.
"Being deployed to Iraq, seeing the things a person sees over there, and what happens when a society breaks down, it made me want to protect my country even more," shares Franklin.
For Franklin, some of his most pivotal missions were those that took place within U.S. borders. At home, Franklin fought four major floods, rebuilt a suspension bridge, cleared an important military drop zone, and supported other military efforts.
Throughout his military career, Franklin has risen through the ranks of the National Guard. In January 2020, he will be promoted again to First Sergeant, responsible for the welfare and training of 90 soldiers.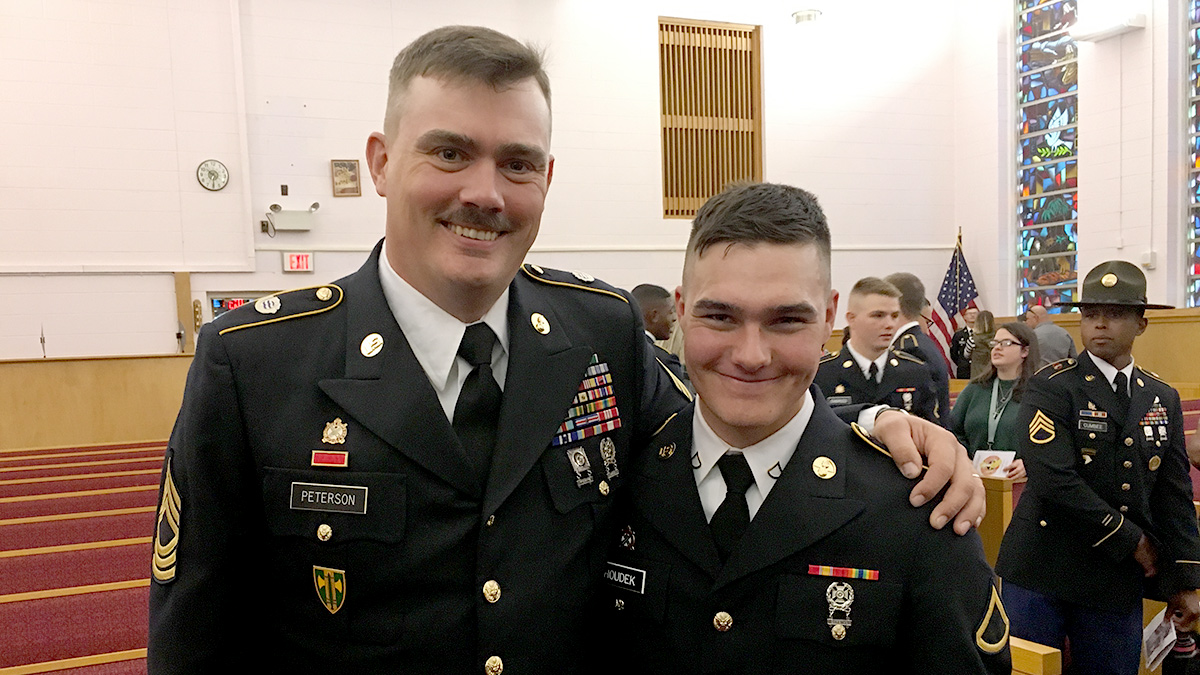 From the military to the pipeline
"Up until a year ago, when I started with TC Energy, I was full-time with the Guard – all day, every day, wearing my uniform," he says.
Today, Franklin is a Mechanic with our Glacial Lakes team in the North Dakota area and continues to serve part-time with the National Guard. He uses the skills he developed as a combat vehicle mechanic to run and maintain our vast energy infrastructure network. Working in the field alongside his team, Franklin maintains our pumps, motors, valves and HVAC systems – ensuring our operations are safe and reliable.
"My military training helped a lot with the transition," he shares. He sees a lot of similarities between the Guard and our field teams. The safety protocol, documentation, and disciplined approach – it's all familiar to Franklin.
"Whether it's the military or the pipeline, it's important you dot every i and cross every t – the stakes are high," he says.
Sense of duty
When asked what drew him to the National Guard two decades ago, Franklin shares, "a sense of duty."
"It's what brought me into [the National Guard] and it's what keeps me here. It's a community who share the same sense of duty and have made the same sacrifices."
While he admits he misses his military family, Franklin feels right at home at TC Energy.